This man.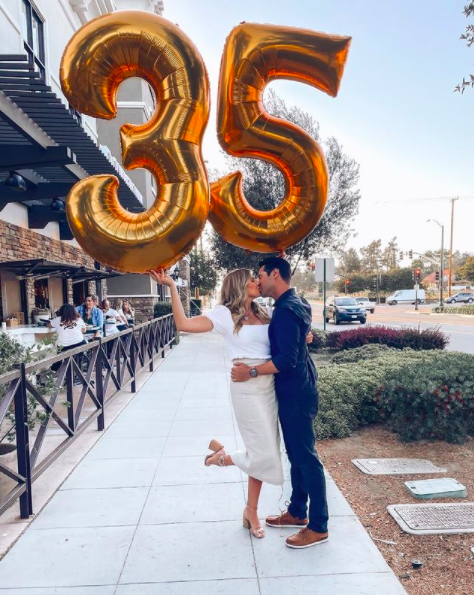 Recently, he put so much effort into kicking off my 35th year and I love him even more for it. We have gone through it all, every high and every low yet we're still here loving each other through the chaos of life.
As we drove home from a night of celebrating I put on a song "𝙩𝙝𝙚 𝙗𝙤𝙣𝙚𝙨"that reminds me of us. At the end of the day, life can throw curveballs, things can try to tear a marriage apart and it might get really hard but there is nothing that will break it if the foundation and the bones are good — truly, the only one that can do that is God.
He's the only one.
So today I'm thanking the Lord for keeping us together, for pushing us through it all and for allowing us to celebrate this life together. I wouldn't want anyone else by my side this year and the many years to come.
I love you @nessyrod.
"𝐘𝐞𝐚𝐡, 𝐥𝐢𝐟𝐞 𝐬𝐮𝐫𝐞 𝐜𝐚𝐧 𝐭𝐫𝐲 𝐭𝐨 𝐩𝐮𝐭 𝐥𝐨𝐯𝐞 𝐭𝐡𝐫𝐨𝐮𝐠𝐡 𝐢𝐭, 𝐛𝐮𝐭 𝐖𝐞 𝐛𝐮𝐢𝐥𝐭 𝐭𝐡𝐢𝐬 𝐫𝐢𝐠𝐡𝐭, 𝐬𝐨 𝐧𝐨𝐭𝐡𝐢𝐧𝐠'𝐬 𝐞𝐯𝐞𝐫 𝐠𝐨𝐧𝐧𝐚 𝐦𝐨𝐯𝐞 𝐢𝐭.
𝐖𝐡𝐞𝐧 𝐭𝐡𝐞 𝐛𝐨𝐧𝐞𝐬 𝐚𝐫𝐞 𝐠𝐨𝐨𝐝, 𝐭𝐡𝐞 𝐫𝐞𝐬𝐭 𝐝𝐨𝐧'𝐭 𝐦𝐚𝐭𝐭𝐞𝐫. 𝐘𝐞𝐚𝐡, 𝐭𝐡𝐞 𝐩𝐚𝐢𝐧𝐭 𝐜𝐨𝐮𝐥𝐝 𝐩𝐞𝐞𝐥, 𝐭𝐡𝐞 𝐠𝐥𝐚𝐬𝐬 𝐜𝐨𝐮𝐥𝐝 𝐬𝐡𝐚𝐭𝐭𝐞𝐫.
𝐋𝐞𝐭 𝐢𝐭 𝐛𝐫𝐞𝐚𝐤 '𝐜𝐚𝐮𝐬𝐞 𝐲𝐨𝐮 𝐚𝐧𝐝 𝐈 𝐫𝐞𝐦𝐚𝐢𝐧 𝐭𝐡𝐞 𝐬𝐚𝐦𝐞 𝐖𝐡𝐞𝐧 𝐭𝐡𝐞𝐫𝐞 𝐚𝐢𝐧'𝐭 𝐚 𝐜𝐫𝐚𝐜𝐤 𝐢𝐧 𝐭𝐡𝐞 𝐟𝐨𝐮𝐧𝐝𝐚𝐭𝐢𝐨𝐧. 𝐁𝐚𝐛𝐲, 𝐈 𝐤𝐧𝐨𝐰 𝐚𝐧𝐲 𝐬𝐭𝐨𝐫𝐦 𝐰𝐞'𝐫𝐞 𝐟𝐚𝐜𝐢𝐧𝐠 𝐖𝐢𝐥𝐥 𝐛𝐥𝐨𝐰 𝐫𝐢𝐠𝐡𝐭 𝐨𝐯𝐞𝐫 𝐰𝐡𝐢𝐥𝐞 𝐰𝐞 𝐬𝐭𝐚𝐲 𝐩𝐮𝐭. 𝐓𝐡𝐞 𝐡𝐨𝐮𝐬𝐞 𝐝𝐨𝐧'𝐭 𝐟𝐚𝐥𝐥 𝐰𝐡𝐞𝐧 𝐭𝐡𝐞 𝐛𝐨𝐧𝐞𝐬 𝐚𝐫𝐞 𝐠𝐨𝐨𝐝.